Bowmasters
5.0.17
Bow Training Game – A Hilariously Addictive Fling-fest
Do you like throwing projectiles? Want to play a game in which you get to throw stuff at others? If yes, then you should give this bow training game a try. Bowmasters is a projectile-based game in which you get to play as one of several quirky characters that are armed with a unique weapon. It combines elements of physics-based gameplay, humorous character design, and intense multiplayer action. You get to engage in duels with other characters. The goal of the game is to hit and ultimately kill your opponent. You will have to aim your weapon by adjusting the angle and the power before launching it towards your target. The physics engine in this game is surprisingly accurate, making every shot feel rewarding when it lands just right.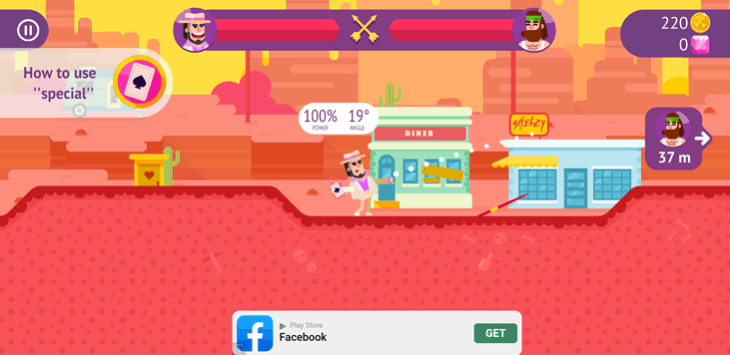 Bowmasters has addictive gameplay. This bow training game is easy to pick up but difficult to master. The timing and precision required to consistently hit your target adds a layer of challenge that keeps you coming back for more. Although the graphics are a bit cartoonish, they suit the game's lighthearted and comical tone perfectly. The animations are smooth and entertaining, with exaggerated reactions and hilarious death animations that add to the overall amusement. All of the characters in this game have a whimsical design. Each fighter has its own unique quirks and visual appeal. The game's arenas are equally diverse and visually stimulating, ranging from serene landscapes to bizarre fantasy settings. To add to this, the sound effects, from the whoosh of projectiles to the comedic grunts and yells of the characters, are spot-on.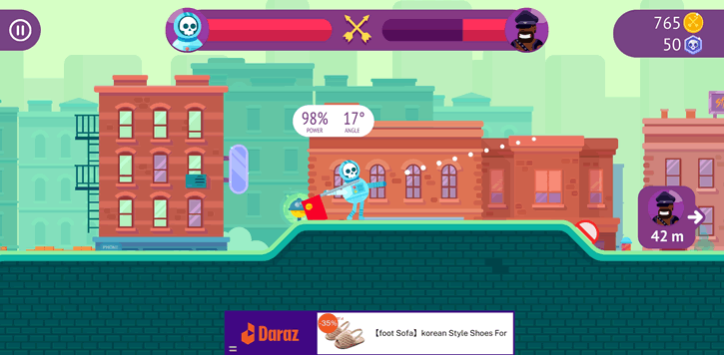 This bow training game offers a wide range of characters, each with their own distinct abilities. You can use these abilities to your advantage during matches. Additionally, each character has its own weapon that it uses as a projectile. There are all sorts of weapons used by the characters in this game. They range from conventional weapons like arrows and axes to hilarious items like playing cards and flags. This mix of conventional and unconventional weapons adds a delightful element of unpredictability to the matches. You can unlock new characters by spending the coins you earn while playing the various game modes. Some of the characters are only available for VIP subscribers, though. You have the option to upgrade the characters by spending gems.
Bowmasters has multiple single-player as well as a multiplayer modes. In the multiplayer mode you can challenge friends or random opponents in real-time battles. This adds a competitive edge to the game and ensures that no two matches are ever the same. The thrill of outsmarting your human adversaries is a significant part of what makes this bow training game so addictive. Bowmasters also offers a single-player mode, with a variety of challenges and objectives to keep solo players entertained. While the multiplayer aspect is undoubtedly a highlight, the single-player content adds depth and longevity to the overall experience. Do keep in mind that you need to get a particular number of wins before you can unlock the other single-player and multiplayer modes.
Features:
Multiple game modes available
Multiplayer modes to play against other people
Complete various challenges in the single-player modes
Lots of characters to choose from
Each character with unique abilities and weapons
Option available to upgrade characters
Conclusion:
Bowmasters is an app for people who are looking for a lighthearted, physics-based dueling game with a hefty dose of humor. It successfully combines accessible gameplay, humor, and multiplayer action to bring you a game that offers hours of laughter and competition. You will enjoy immersing yourself into the wacky world of this bow training game.
RELATED PROGRAMS
Our Recommendations
---
---
---
---